Free Delivery on UK orders over £50
Xantrex True Charge 2 24v Charger 10amp
Description
TRUECharge2 battery chargers lead the industry with a small footprint and ultra-compact design. In addition to
meeting global safety and regulatory standards, TRUECharge2 battery chargers feature low electrical interference
and efficient, power factor corrected multistage charging. Thanks to their inherent drip-proof design characteristics,
the TRUECharge2 chargers can be mounted in multiple positions.
Designed for recreational and commercial applications worldwide, TRUECharge2 accepts 90 – 265 Vac, 47-63
Hz which makes traveling abroad and handling poor-quality power a breeze. The easy-to-read display of the
TRUECharge2 20 A, 40 A and 60 A 12 V models can be augmented with an optional remote panel. Each models
comes with built-in protection against surges and spikes on the AC power line.
Product Features
» TRUECharge2 20 A, 40 A and 60 A are equipped with PARALLEL STACKING
feature. This allows two chargers to work together to combine the output
current, achieving up to 120 A for large battery banks. This requires the
optional Remote Panel (part #808-8040-01)
» Microprocessor-controlled, multistage charging algorithms
» Settings for two and three-stage charging, excluding 10a 12V version
» Settings for fl ooded, gel, AGM or lead-calcium batteries
» Battery-equalization feature
» Ability to charge batteries drained to extremely low voltage
» Optional battery temperature sensor (Part #808-0232-01)
Protection Features
» Reverse battery polarity protection
» Drip-proof design
» Over and under-temperature protection
» DC over-voltage protection
Power Factor Corrected (PFC) Charging
» Less shorepower is required for charging
batteries, freeing up more usable AC power
for running electrical devices and appliances and
reducing the likelihood of tripping shorepower
breakers
Three-Stage Charging
» Multistage charging ensures batteries receive optimum charging, but with minimal wear
and tear, regulating the voltage and current delivered to the batteries in three automatic stages:
» Bulk: Replaces 70-80% of the battery's state-of-charge at the fastest possible rate
» Absorption: Replenishes the remaining 20-30% of charge, bringing the battery to a full charge at a slow, safe rate
» Float: Voltage is reduced and held constant in order to prevent damage and maintain batteries at a full charge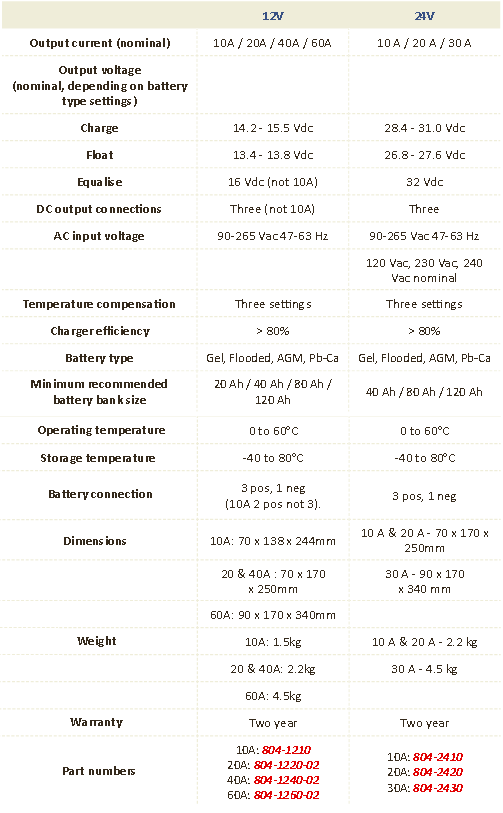 Regulatory and environmental compliance
RCM, CSA E60335-2-29, UL1564, and UL1236 including the Marine Supplement, drip test, and Ignition Protection ratings. CE Marked for the Low Voltage Directive
(safety) and the EMC Directive. Complies with IEC 60335-2-29 including Australian deviations. Ingress protection rating IP32 per EN/IEC 60529. Complies with FCC
Part 15B and Industry Canada ICES-003 Class B emissions limits. Complies with ABYC A-31
Note: Specifications subject to change without notice. *90 – 104 Vac ± 4 Vac output de-rated to 80% of full load current. **Output current derates above 50°C (except 40A model which
derates above 40°C). Highly Accelerated Life Tested (HALT) to -20°C.
Additional information
| | |
| --- | --- |
| Weight | 2500 g |
| gtin | 715535024109 |
| Brand | Xantrex |
| WooCategory1 | Electrics & Plumbing |
| WooCategory2 | Batteries, Power & Chargers |
| WooCategory3 | Battery Management |